Aren't All Water Restoration Companies in the Bloomfield Area the Same?
8/17/2020 (Permalink)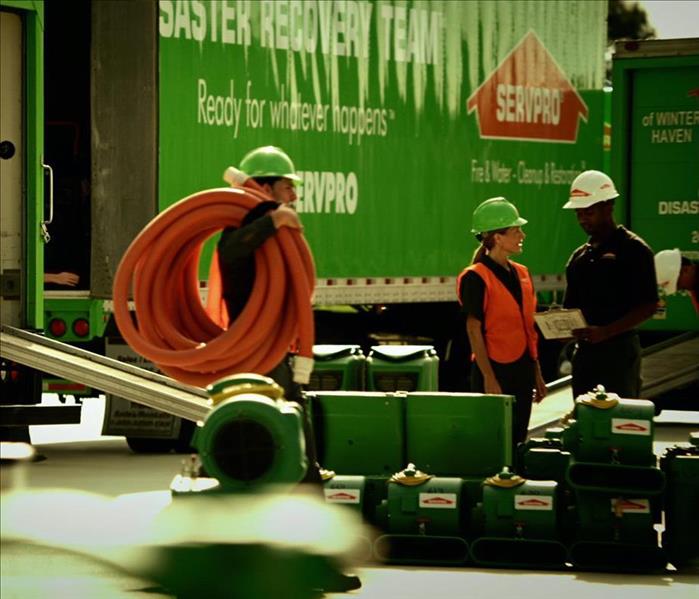 We understand the need for rapid response and restoration to minimize the loss of your business property. Call us right away we are available 24/7.
Your Business Has the Best Chance of Rebounding from Significant Damage When Your Choice from Among Local Water Restoration Companies Is a Full-Service Firm Like SERVPRO.
Shopping around for a premier water restoration company in Bloomfield is a challenge. Unlike the methodical process you may use when planning for other major purchase business shopping, you are responding to a crisis situation, often with little to no first-hand knowledge of what you need or want to find in a water mitigation, remediation, and restoration firm. You have to think and act fast. Add to this the pressure of cold-sales tactics if your water loss is due to a storm or other natural disaster.
Should I Grab the First Pitch I Receive from a Water Restoration Company?
Especially if some of your business neighbors are also in need of water restoration companies in Bloomfield, you might be in fear of a long wait time before your job is even assessed. Please resist the temptation to hire an itinerant water damage company because they claim to be able to help immediately. You might rue your choice when problems crop up pertaining to their work long after they move on to the next town or neighborhood hit by a disaster. Instead, inquire locally and be upfront about your concerns around waitlists and the risk of additional damage if you do not receive help quickly.
Why Are Local Water Restoration Companies Usually a Better Fit?
A water restoration business in our community can be vetted by talking to friends and neighbors who used them in the past. You can speak directly to the management of the company and research their record with the Better Business Bureau or other community industry organizations. Local restoration companies often scale their response to a disaster up and down by reaching out to networks of other restoration companies they built over time, making them able to help more customers than you might have thought was possible.
Are Water Restoration Companies Limited in the Tasks They Can Do?
When your commercial property suffers from a water event, whether it is a flood, plumbing break, appliance malfunction, or something else, many tasks need to be completed to bring your business operations back to the point where it looks and feels "Like it never even happened." Some water restoration companies can only provide water extraction and drying services, leaving customers on their own to find other contractors to take care of the collateral damage done by a water crisis.
What Is the Answer to a Short List of Options?
A firm like SERVPRO offers wrap-around services designed to transform your business property back to preloss condition. We invest in the Institute of Inspection, Cleaning and Restoration Certification (IICRC) training and licenses needed for our team to manage the water damage as an "assessment to build back" project. We save our customers time and money with this approach and relieve the stress on business owners using our services. You do not need to act as a general contractor, lining up one company after another for each phase of the water cleanup and restoration agenda.
What Are Some Other Characteristics That Make Our Company Stand Out?
In addition to the wrap-around rebuilding opportunities and IICRC training and certification, we also prioritize extensive inventories of state-of-the-art equipment, tested proprietary cleaning and disinfecting products, and rapid response. We're Faster To Any Size Disaster, stocking our signature green service vehicles with:
Onboard generators and gas-powered pumps if the electricity is shut down at your business or in an entire neighborhood
A vast array of extractors, tools, and devices focused on the water restoration process
EPA-registered cleaners and antimicrobials
Can I Count on Long Term Support if Needed?
We do not count you as a customer for just one job. Once you reach out, we are committed to building a relationship that you can rely upon far into the future. Any questions or concerns you have about today's water restoration project are answerable now or months or years later. Our goal is to support you and other community members with every decision we make, skill we learn, and innovative equipment or products we introduce.
SERVPRO of Nutley / Bloomfield can take a water-damaged property from chaos to turn-key preloss condition utilizing a skill set that bridges everything from water restoration training and experience to top-notch reconstruction results. Call us at (973) 662-0062 to learn how our unique mix of services can meet your needs.