How Can Thermal Imaging Cameras Help Locate Water Within My Home?
8/6/2020 (Permalink)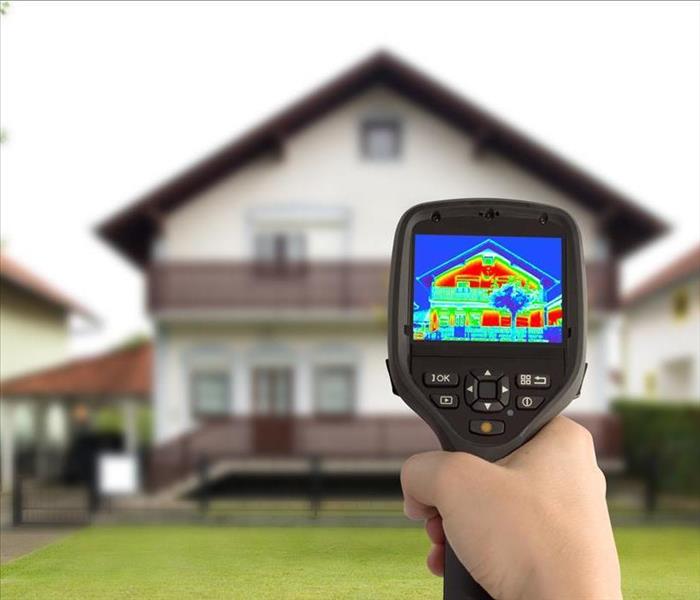 You can depend on our experienced technicians to respond quickly with the proper tools and equipment your home needs after a water intrusion.
SERVPRO has an array of advanced equipment for precise water location in your Nutley property.
One way SERVPRO techs evaluate a property quickly to ascertain an accurate scale of the damage is through the use of various types of detection equipment. Thermal imaging cams are useful for finding and monitoring moisture levels in building materials, including showing how the water migrated throughout the home and indicates moisture that may not have been uncovered. It works by showing not images but infrared images that pinpoint collections of moisture and allow the techs to peer behind walls and ceilings without the need for removal.
What Can Happen If Flood Damage Gets Missed During Cleanup?
The use of various types of detection equipment during flood damage cleanup in a Nutley home is crucial because the longer elevated moisture conditions remain on-site, the more damage they do to building materials and contents. Common water damage issues are:
Deterioration of sheetrock shown through buckling or warping
Establishment of mold colonies
Loss of adhesion of tile and glue-down carpet
Swelling or cracking of wood furnishings that absorbed water
The techniques carefully scope the property so they can be sure to extract all of the water and leave nothing behind. SERVPRO techs set drying goals that ensure the environment is not sustainable for mold spore germination or growth and monitor the process carefully while the drying equipment runs. Afterward, the use of professional cleaning agents leaves surfaces clean and without a trace of the flood loss. A final sweep with the detection equipment ensures that the property verifies as dry and free from any remaining moisture from the floodwater.
SERVPRO of Nutley / Bloomfield at (973) 662-0062 when you need fast, expert restoration from flood damage. The techs have ongoing education in the latest techniques to make the loss to your property, "Like it never even happened."
Learn more about Nutley.