SERVPRO Is Ready To Restore Your Bloomfield Business
5/1/2019 (Permalink)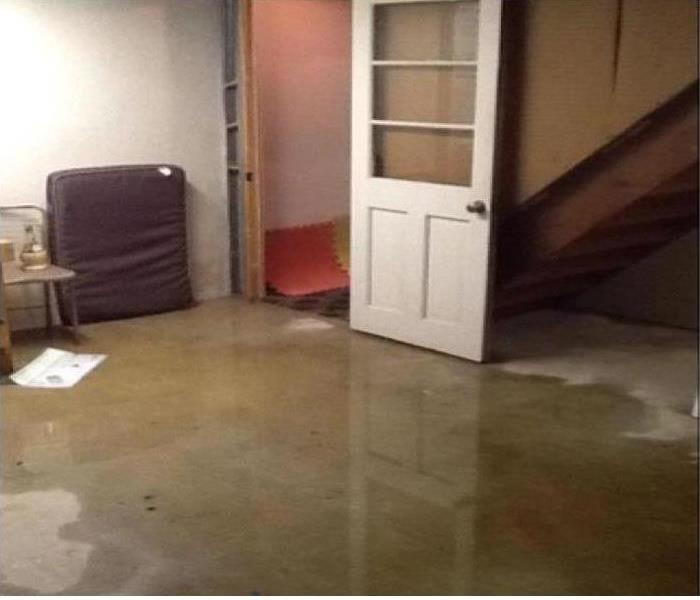 SERVPRO responded to this call within an hour, vacuumed up the water, set out several air movers and used their expertise to restore the basement.
Commercial Water Removal in Bloomfield After a Roof Leak
Roofing is one structure commercial facility owners do not often consider, primarily due to the long life expectancies on their roof membranes. However, when the cracks in an aged modified bitumen membrane on your flat roof lead to leaks and unwanted water on the floor and fixtures of your clothing storefront, you need a commercial water removal service that can save your structure and merchandise from mold and other water-related ailments that can occur in water-damaged structures.

If a leaky roof leads to commercial water removal in your Bloomfield clothing outlet, the certified technicians at SERVPRO are ready to answer your call and restore your storefront to its pre-damage condition. We have industrial-grade equipment and extensive training in the prevention of water damage and can use those tools and knowledge to provide you with a pristine store once more.

When our SERVPRO team comes to you, we can get straight to work on moving and cleaning your floor and fixtures. For drying, we can establish polyethylene chambers to contain moisture and make drying with air movers and dehumidifiers more efficient. Loose water on your floor can be quickly picked up with wet/dry vacuums. We can also use EPA-registered disinfectants to clean surfaces and prevent the proliferation of bacteria on benches, hangers, and other items affected by water damage.

After drying, we can deodorize your store to prevent odors from developing on clothes, flooring, or in your ceiling. SERVPRO odor control technicians can use thermal foggers to emit a dry, solvent-based smoke that binds with odor-causing particles to eliminate potential smells from developing on your merchandise or structures. Before and after deodorization, ventilation box fans are utilized to both improve airflow and accelerate deodorization so that you can get back to business as usual.

SERVPRO of Nutley/Bloomfield is ready to help you 24 hours a day, 7 days a week. If disaster has struck at your business, give our team a call today at (973) 662-0062. We can restore your structure to its prior condition and leave it, as we like to say: "Like it never even happened."
Click here for more information about The Bloomfield Shuttle Bus.