We Respond Fast To Your Belleville Home Flood Damage Restoration Needs
5/11/2019 (Permalink)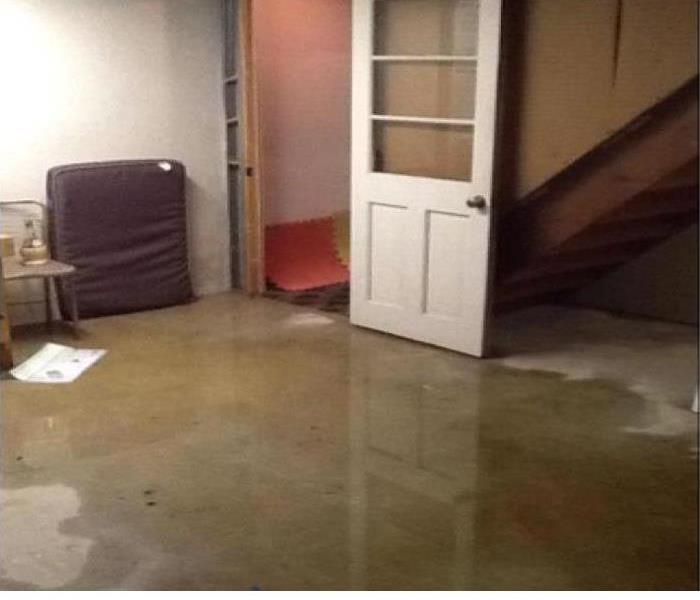 SERVPRO responded within the hour to this home owner's call, vacuumed up the water, set several air movers and an LGR dehumidifier.
What You Can Do When the River Adjacent to Your Home Floods
Living riverside comes with its risks, such as flood damage. Now that spring has rolled around, and all of the snow has melted, rivers and other bodies of water bear the brunt of the excess water. When a lot of snow melts suddenly, and all at once, this can cause problems for whoever lives adjacent to a river.

The flood damage that struck your Belleville home came suddenly and swiftly as the Passaic River began to overflow. However, fortunately for you, only the entryway of your home was impacted. Water slipped through the front door and then into your home, spreading out on the hardwood floors, soaking into the walls, the floors, and the light furniture in your entryway. When water invades your home so suddenly, it is imperative for you to call for professional help as quickly as possible. The sooner that the flood damage can be remediated, the better it is for your home.

Here at SERVPRO, we have a hard earned reputation of being quick, effective, as well as a reputation of using only advanced technologies to remediate damages in your home. Our technicians are IICRC-certified and go through various, and frequently updated, training courses. We pride ourselves on knowing that our SERVPRO techs are always ready for whatever damage your home throws at them.

When SERVPRO comes to your home, our first task is to investigate and then to create a flood-remediation and drying plan. The first step is to get all of the standing water out of your entryway. We can remove the furniture, your shoes, and anything that may obstruct us from clearing the water, before beginning. Our technicians can use devices such as extractors, which can be truck mounted for significant volumes of water, as well as wet/dry vacuums.

Once the water is gone, we can assess the damage it has caused to your floors, the walls, and the base of the stairs in your split-level home. If your home needs further remediation, we can bring in drying equipment to draw the rest of the moisture out of the structure of your home. SERVPRO can use thermal imaging technology to locate pockets of water and then use a combination of air blasting tubes, dehumidifiers, air movers, and axial fans to finish off the remediation.

If unexpected and sudden flood damage hits your home, never hesitate. Always immediately call SERVPRO of Nutley / Bloomfield by dialing (973) 662-0062. Day or night, we're available to assist you.
Click here for a Belleville recycling schedule.