Why SERVPRO is the Provider of Choice for Certified Restoration Services for Nutley Residents
9/29/2019 (Permalink)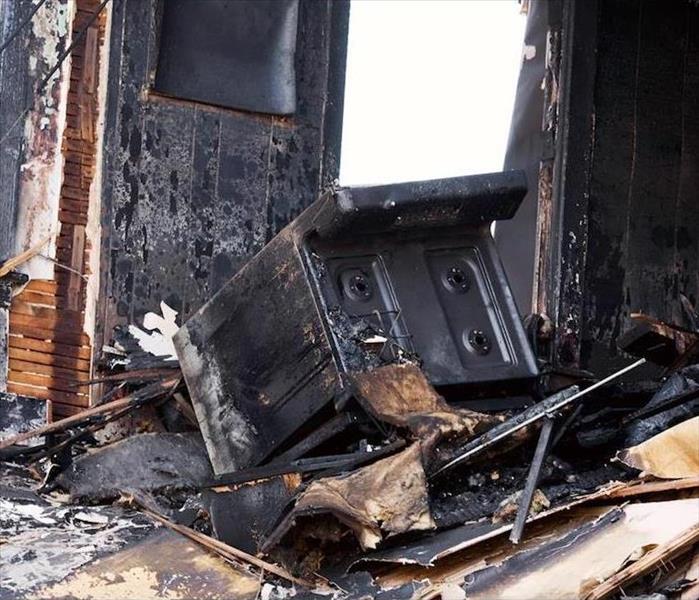 Fires are often not forgiving and burn many types of materials in their path. Contact SERVPRO to help you through any type of damage.
Team SERVPRO Offers Many Remediation Services for Nutley Area Residents
SERVPRO of Nutley long formOur team has worked hard to gain a reputation in Nutley as the premiere provider of home restoration services for this community. We operate by sharing our knowledge between our staff as well as the community. Here at SERVPRO of Nutley, newly qualified technicians are trained by senior members of the team to enhance their experience and learn how to apply their training to practical situations in water, mold, storm and fire damages. By creating a chain of shared experiences, we increase our overall knowledge base as well as delivering a time-efficient, on-budget restoration from start to finish.
Fire combusting materials release chemicals into the surrounding environment in the form of smoke. When hot smoke comes into contact with cooler surfaces, it leaves behind traces of those chemicals in the form of a soot or smoke residue. Residents with fire damage in their Nutley home should seek assistance from the services of a professional restorer to remove these deposits which can easily be spread around without the correct cleaning methods and products.
SERVPRO restoration services have a range of different methods and cleaning products that can be administered to smoke residues to efficiently remove them and return the damaged surfaces to their preloss condition. The first method is mechanical cleaning, which can help to loosen any soft debris at the surface level. Equipment like air-whips can be particularly helpful in dislodging soots which prepares the soiled surfaces for a more concentrated cleaning effort using chemical agents.
SERVPRO cleaning agents are a vital part of our restoration services. These products can differ from household cleaners because they contain chemicals that can alter the structure of the soiling on a surface. Stubborn deposits caused by wet smoke can have their chemical makeup altered using cleaning agents to make surface cleaning more efficient, and provide a greater chance of getting your Nutley home back to preloss conditions after a fire.
Water One of the core principles when dealing with moisture that has entered parts of the home is dry the affected area to its normal condition. The procedure for restoring water damage in your Nutley property can increase the relative humidity as well as temperature in the affected area. One drawback of this approach is that without a careful eye on Psychrometric readings- assessment of temperature, humidity, and air- these changes in the affected area can cause secondary damages like mold growth or warping of some materials.
Getting the affected area back to its natural dry state starts by establishing a dry goal. Dry goals are a fundamental part of restoration services conducted by SERVPRO because they help us to gain a quantifiable way of deciding if a home has been properly restored to its preloss condition. A SERVPRO technician can take readings from rooms and materials in unaffected areas of the home to establish the natural psychrometric equilibrium- this becomes our dry goal.
There are several ways that a dry goal can be reached in your Nutley home. Temperature can be adjusted using your central heating or portable heating units — humidity controlled by dehumidification equipment or open system drying using box-fans. Air circulation can be encouraged using rapid air movers. Sometimes, this process can be completed in as little as twenty-four hours. Where there is extensive damage, your SERVPRO technician may need to carry out drying over several days, returning each day to take new readings. Our drying procedure is comprehensive and can help you to avoid expensive secondary damages after a water-related incident.
Mold Microbial growth issues can arise in your Nutley home and spread rapidly through cavities inside walls or other areas of restricted access. This can make remediation efforts challenging for a SERVPRO restorer as they not only have to deal with removing soiling but also finding ways to combat mold in challenging to reach areas. In mold incidents, the foundation of remediation is finding the source of mold and eliminating it. By eliminating the source, we avoid mold colonies returning after the service is complete.
The impact of mold damage in your Nutley residence is not necessarily going to cause significant losses. Typically, porous materials need to be disposed of, but non-porous surfaces can be remediated. You may associate ultra-low volume (ULV) foggers with deodorizing or pest control, but SERVPRO technicians can use this equipment to kill mold colonies that reside in otherwise inaccessible areas like a ventilation shaft or wall cavity.
SERVPRO technicians can fill foggers with an anti-microbial solvent or biocide. The fogger then vaporizes that solvent into a gas which can be pumped into cavities or other areas of the home providing an exceptional coverage that is time-efficient and effective in killing microbial fungi. You may need to vacate the property while it is fumigated temporarily. SERVPRO technicians can then use industrial fans to exchange indoor air up to fifty times and ensure the biocides released are no longer active in the home environment.
StormRushing water from a flood can quickly overwhelm the barriers in your Nutley property, causing large-scale pooling and standing water issues. We provide restoration services for Storm Damage in Nutley and even offer local, out-of-hours technicians for emergencies. Extensive harm to the property can be caused by floodwaters entering the home, so you need a professional service to ensure losses are reduced as well as the expense of your claim. SERVPRO large loss recovery units are available to assist you.
Flood issues happen fast, but they often require careful planning to restore effectively. The first step is to remove standing water as well as excess moisture, which can migrate to other areas of the home. SERVPRO mobilize pumping equipment as well as extraction units to ship out water fast. Truck-mounted extractors can be useful in providing greater coverage, whereas portable extractors are the equipment of choice where access may be restricted.
Migration of water is the natural process that is dictated by the principle of wet moving to dry. This motion can complicate proceedings as water can wick into wall cavities or other crevices in the home. SERVPRO dry these areas primarily through controlled demolition of drywall and other barriers allowing access, and airflow, into the cavity. Sometimes we can deploy advanced structural cavity drying equipment like injectidry systems to restore the situation and keep expenses low through avoiding replacement. Extracting water and drying the property is essential to ensuring a storm emergency does not have a lasting impact on your home or contents.
SERVPRO of Nutley / Bloomfield is an established restoration service provider that specializes in water, fire, mold, and storm damages. You can contact us twenty-four hours a day at (973) 662-0062 to arrange a visit from our local certified technicians.
Click here to learn more about Nutley.