Is Your Nutley Attic Storing Water Damage?
3/11/2020 (Permalink)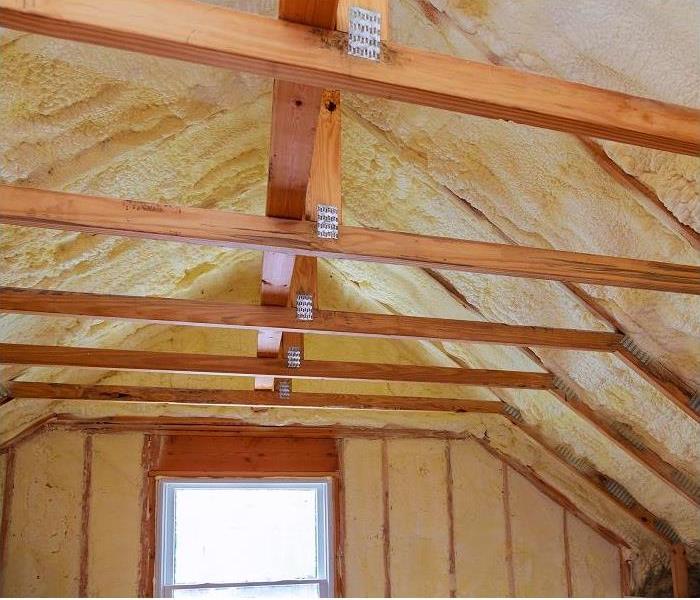 Water can damage attics and without inspection can continue unchecked. Call SERVPRO for fast remediation.
SERVPRO Mitigates Water Damage from a Nutley Attic
Whether from roof leaks, plumbing damages, or HVAC issues, attics can be highly vulnerable to water damage, which can be bad news if you use these areas for storage, especially with cardboard boxes. Losing your sentimental items to any disaster can be distressing because the items that mean most to you are irreplaceable.
If you need water damage mitigation for your Nutley home, IICRC-certified SERVPRO technicians are ready to restore your home to its preloss condition. The Institute of Inspection Cleanup and Restoration Certification, or IICRC, sets the standard for all disaster cleanup professionals. SERVPRO's training ensures that we consistently meet these standards and that all staff, from technicians to franchise owners, are well-versed in disaster cleanup and restoration so that homeowners can save time, money, and items of sentimental value.
SERVPRO Tools
SERVPRO's state-of-the-art equipment strives to address the broad array of concerns that come with water damage and return your home to its preloss condition. Such tools include:
Moisture measurement tools that are both penetrating and nonpenetrating, and can evaluate factors like temperature, humidity, and conductivity
Extraction tools like submersible sump pumps, extraction wands, and truck-mounted extractors
Drying tools like centrifugal air movers and low-grain refrigerant dehumidifiers
Odor-killing air purification equipment like HEPA-filter air scrubbers, axial fans, and ultra-low volume foggers
EPA-registered, OSHA-approved biocides
How SERVPRO Dries Your Attic
If your attic is unfinished, one of the essential steps to successful drying is to remove any wet insulation. Fiberglass insulation is often restorable, but organic materials like cotton and cellulose pose too high a mold risk to maintain safely.
If you have a home with HVAC in the attic, SERVPRO technicians can carefully clean and dry sheet metal components. However, if you use flex ducts, replacement may be more cost-effective than attempting to repair. Air movers and dehumidifiers placed every 10 to 16 linear feet in the affected area can dry wood fixtures and flooring. Polyethylene drying chambers can partition off the damp or wet areas to accelerate this process.
SERVPRO of Nutley / Bloomfield serves the community by being Faster To Any Size Disaster. Call (973) 662-0062 for emergency-response cleanup 24/7.
More about Nutley.